My name is James Flemming Rasmussen. I was born in Copenhagen, Denmark in 1937
In a way - my story is special - when I in 1954 heard Luis Armstrong and Ella Fitzgerald singing " Can anyone explain " My destiny was sealed - Music became my life.
In 1954 I also heard " Rock around the clock " then it all came down – and in 1955 – I started Denmark's first Rock and Roll band. " James and his James-men "
After a few wonderful years – touring Norway, Sweden, Iceland and Denmark. I was asked to join Denmark's – at the time hottest Boy Band – FOUR JACKS. They already had big success.I joined this group in 1958 – And sang with them fort
5 wonderfull years.
In that period we were the biggest act on the music scene in Denmark – Everything we touched was a success – But In 1964 we broke up.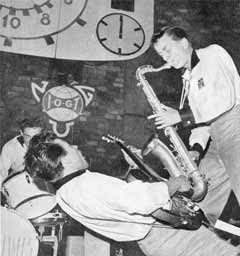 James and his JAMESMEN – JORDAL AMFI NORWAY 1956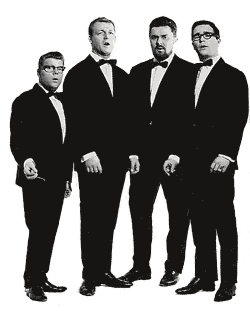 The Four Jacks – Bent Werther, Poul Rudi, John Mogensen
and James Rasmussen.
October 1965 I left Copenhagen – and went to Los Angeles – all the
records I had, was produced there – so I had to see what that was all about.
I did not know anybody there – and after I had paid my air-line trip I had
1000 dollars in my pocket.
It was easy for me to rent a apartment – on the better end of Hollywood
Boulevard I spend the first the first 3 months reading the LA Times – looking
at tv. – trying toget familiar with the language and the mentality.
After that – I one day went down to Selma Ave – I sat in on a coffee shop
called "Rewell`s" – And I got-in to talking with Buzz Clifford – He was a songwriter artist and the year before had a million-seller called Baby-Sitting-Boogie – We became friends – and through him I meet most of the people in the music business.
In 1967 Buzz Clifford wrote the song " Echo Park " – He then gave me an exclusive deal to record the song – I then found the singer Keith Barbour – he loved the song – and 3 months later I had Jim Keltner – Matt Moore and Buzz Clifford in the studio – and we did the song.
then sold the production to Epic Records – And I was invited to the Big Apple – to meet Clive Davis – who at the time was president of Columbia Records – My production – was released in 1968 and became a big hit on the east and west coast – All the big stations was banging away on my record – In the mid west the radios boycotted my production – because it set a question-mark with the war in Vietnam. But it came on Billboards top 100 list as number 28 – as far as I remember.
Because of my producer success – the phone rang – and for the next 7 years I was working with – Danny Moore – T. Bone Burnett – Val Garay – Jim Keltner – Redbone – Bobby Hebb – JR. Shanklin -David Somerville – David Jackson – Mister Big – Kieth Barbour and many more – Sorry if I forgot some of the wonderful people – It`s been a long time.
I also wrote my own songs and – somewhere along the line I went in the studio and produced
an album with my own songs – It was called " Rasmussen " and was released on Reprise Records in 1970 – ore was it 1971 – I can`t remember.
In 1980 I went back to Denmark – and for the past 36 years I have toured Denmark – with my little band playing all the songs we had so big success with in the Four Jacks – and where-ever we come – we make people happy – And by now I celebrate 50 anniversary in the music business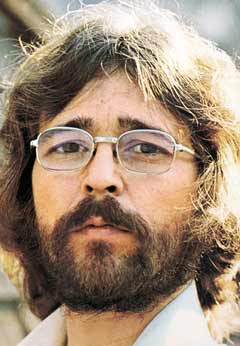 Cover photo from The LP release "RASMUSSEN
May 23 2005 EMI records in Denmark have released a box-set with Four Jacks – ( 112 productions – songs ) 4 cd`s in the box. And in june 10 2005 The Four Jacks is number ONE on the official Danish top forty chart – Unbelievable